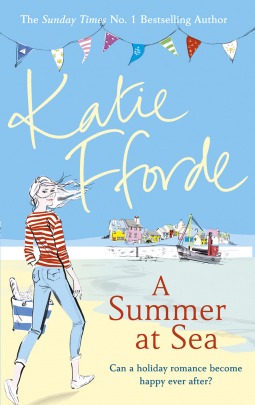 Blurb: Emily is happy with her life just as it is.
She has a career as a midwife that she loves . She enjoys living on her own as a single woman. But she's also feels it's time for a change and a spot of some sea air.
So when her best friend Rebecca asks whether she'd like to spend the summer cooking on a 'puffer' boat just off the Scottish coast, she jumps at the chance.
But she barely has time to get to grips with the galley before she finds herself with a lot on her plate.
Rebecca is heavily pregnant and is thrilled to have her friend on board doing most of the work. Then there's Emily's competitive and jealous kitchen assistant who thinks she should be head-cook, not Emily.
And there's Alasdair, the handsome local doctor who Emily is desperately trying not to notice.
Because if she falls in love with him, as he appears to be falling for her, will she ever want her old life back again?
My Rating: 4/5
Review: As a long-term fan of Katie Fforde I was thrilled to get a copy of this book from NetGalley and the publishers in exchange for an honest review.  Given I have read all but one of Katie's books I was fairly sure I would enjoy this one and I wasn't wrong.  The characters are well-written as usual and make you feel as if you already know them. I could empathise completely with Emily's dilemma over whether she wanted to change her life or just needed a break from it.  However, I wasn't keen on the constant nagging of Emily to have children, not everyone wants children and it shouldn't be an issue if they choose not to have any.  That aside, this was a lovely story, perfectly set in the west of Scotland and showing off the country at its best.  The descriptions of the scenery were brilliant and if I didn't already live there I would be very tempted to move after reading the book.  I also loved the puffer boat and the way the character of the boat came across.
This is another lovely, cosy read from Katie Fforde which will not disappoint her current fans and will probably gain her some new ones.  Although this book is set in the summer it works brilliantly at any time of year, especially grey winter days when you want a pick me up.